Snow Like Ashes by Sara Raasch
Genre: YA Fantasy, Romance, Adventure
For Ages: 13 and up
My Rating: 4 of 5 stars
Story contains: Elemental magic. Some violence. Some romance.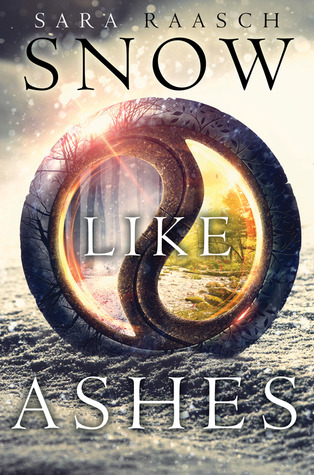 Book description:
A heartbroken girl. A fierce warrior. A hero in the making.

Sixteen years ago the Kingdom of Winter was conquered and its citizens enslaved, leaving them without magic or a monarch. Now, the Winterians' only hope for freedom is the eight survivors who managed to escape, and who have been waiting for the opportunity to steal back Winter's magic and rebuild the kingdom ever since.

Orphaned as an infant during Winter's defeat, Meira has lived her whole life as a refugee, raised by the Winterians' general, Sir. Training to be a warrior—and desperately in love with her best friend, and future king, Mather — she would do anything to help her kingdom rise to power again.

So when scouts discover the location of the ancient locket that can restore Winter's magic, Meira decides to go after it herself. Finally, she's scaling towers, fighting enemy soldiers, and serving her kingdom just as she's always dreamed she would. But the mission doesn't go as planned, and Meira soon finds herself thrust into a world of evil magic and dangerous politics – and ultimately comes to realize that her destiny is not, never has been, her own.
Characters:
Meira is a tough and determined protagonist with a lot of personality. She grew on me as I followed her thoughts and narration throughout the story. The fun, energetic side of her I found appealing. I'm not sure that I agree with every decision she's made, at times being selfish and throwing tantrums, but in the end she learns to grow up a bit, and that adds further depth to the story.
The sub main characters, warrior-like Sir and princely Mather, are intriguing and hold secrets that made me want to keep reading on. Despite the fact that they are both resilient and strive to hide all emotion, they have flaws and faults that make them real people, and relatable.
As interesting as all of the sub main characters were, it was Prince Theron who stood out to me most. A prince who is the opposite of his cold, greedy father, and who is a lover of art and books. Because of his status he wasn't able to live the life he often craved for, forced to train as a warrior instead of a scholar, but as he told Meira: he found a way to be himself despite his situation in life. Even though he doesn't enter the story until halfway through, I enjoyed every scene that his bright personality was in. 🙂
Plot:
The first half of the book kept at a good pace, with Meira's search for the locket half and the Winterian remnant forced to be on the run to survive. I'm not sure how I feel about parts of the last half though, as some of the characters' decisions didn't make much sense to me. Particularly the first battle, where Meira's and others lives were put in grave danger. I would have thought the Winterians would be more careful and keep out of battle as much as possible to further their kingdom's chances of survival. Their priorities were a bit confusing to me. Meira should have been kept safe, and it didn't feel necessary for them to enter the front lines of that particular battle.
There is somewhat of a love triangle, but it was different than the kind you normally see in YA. I wasn't bothered by it, and I actually found that I liked both of the guys and would be okay with whoever she chooses. I will say that near the end, it feels that she's made her decision. Of course that could change when the second book comes out, I'm not sure, but I'm hoping Meira will stick with her decision.
Overall:
An entertaining YA read filled with questions and mysteries to be solved, revolving around an ancient past and an ancient magic. The idea of seasons being kingdoms is very creative, and the world's system in general is something you don't normally find in YA fantasy. If you're looking for something new and different in this genre, and like a dose of good vs evil, then I recommend you pick up a copy. 🙂
Connect with me on Facebook, Tumblr, Google+, and Twitter. If you would like to read more about me, WIPs, and things not on the blog, follow my monthly mailing list.