I was tagged by blogging/writer friend Lauren Gunter for this Q&A! (thank you!)
1. Who are your favorite authors, and do they influence your writing?
Okay, so the obvious ones are Tolkien and C.S. Lewis, who inspired me to read and write in the fantasy genre. Tolkien opened up a world of possibilities for my imagination, and sparked my love of elves, 😉 though I'm a Hobbit through and through!
Brian Jacques was a British author of the Redwall series, and I gobbled up his books through highschool. His stories are filled with adventure, seafaring, battle strategies, valiant heroes, and riddles, as well as amazing descriptions of food (yum!). He inspired the adventurous side of my writing.
Masashi Kishimoto is a Japanese author, and his series Naruto is filled with every emotion and many life lessons as a young boy attempts to become the greatest ninja in his village. He inspired my sense of humor, and got me thinking "outside the box" to be more original, as well as how to weave an impactful message through story.
Robert Jordan introduced me to long epic fantasy. The way he handles numerous characters and three POVs in each of his books is an art!
How about you? What authors have influenced you?
2.Why do you write?
Because I must! There are so many stories to be told and characters to get to know, that I cannot sit still! You cannot fight the urge to dance, you cannot fight the urge to write!
3. Is writing something you (would) do for a living, or is it just a hobby?
I would love to publish books for a living! What writer wouldn't? You could still do another hobby or part-time work on the side, but to have writing be your main focus would be a dream come true! That is why I am working so hard to make my first novel Strayborn be the best it can be before it's published!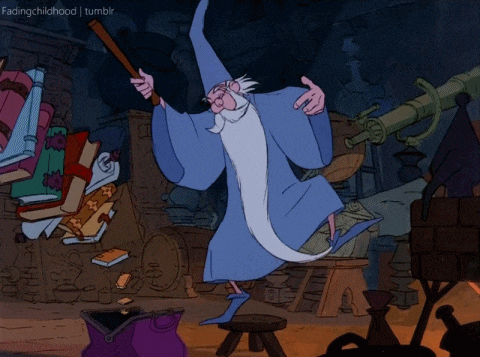 4. Do you enjoy reading the same genres that you enjoy writing?  Why or why not?
I do! Because my stories tend to cross genres, I would have nothing to read if I tried to avoid books in my genres, lol. But I also like to study how authors of those similar genres craft their plot, and how their writing styles differ. The Night Circus's plot is full of twists and turns, and the writing is lyrical magic, while This Savage Song is a straight forward plot, and the writing crisp and vivid. It's fascinating to compare books!
5. If you could use one GIF to describe your writerly self, what would it be?
6. How do you deal with writers' block?
Read, browse through Pinterest, ride my exercise bike—all while I work on the outline for my story in the back of my head. If you have a basic outline to follow, then writer's block won't be able to grab you as you write! And if it does manage to wrap its fingers around you at some point, you can pry it off by surrounding yourself with whatever inspires you.
7. How do you feel about writing explicit content (e.g. "curse words" or suggestive content) in books for young people?  Why? 
I don't put explicit content in my books (though there is violence). It's not something I want to do. There's enough content like that out in the real world. I want all readers to feel that they can read what I write without worrying about the content.
8. Have you written books for adults before/after writing for young readers?  What's the transition between genres like? 
No, I prefer sticking to young adult and middle grade. It's more my style.
9. What do you think of self-publishing versus traditional publishing?  If you've only published traditionally, would you ever self-publish?  And if you're a self-published author, would you ever go the traditional route?
I've heard there can be complications when you want to do both publishing routes—something to do with the contract an author may be asked to sign. You just have to make sure that the traditional publisher you want to work with is willing to let you also self-publish other works on the side. I'm open to doing this some day, but it's too soon for me to think that far ahead. One step at a time!
10. What's one question you've been dying to ask other MG/YA writers?
What is your favorite type of main character? For example:
Male or female? Human or non-human? Very heroic or troublemaker or in-between?
Writer or not, let us know your answer to the above question in the comments below!
If you would like to do this I Write YA/MG Tag on your blog, Facebook or wherever else, then consider yourself TAGGED! 🙂 The only rule is to answer the questions. I ask that you link back to this post's URL somewhere in your post so we can find it.
---
Want news and exclusives from me? Subscribe to the e-Newsletter!
© 2017 author E. E. Rawls and RawlsE.wordpress.com
(ads are by WordPress, not me)