Today, I'd like to introduce you to the novella project I've been working on for NaNoWriMo, as well as answer this month's Beautiful Books questions on its progress thus far.
A monthly link-up, hosted by Paper Fury and Further Up & Further In, where authors/writers answer a series of questions regarding their books-in-progress! Find my other BP posts here.
First, a quick introduction to the NaNo project:
Title: The Fairy, The Hunter, And The Quest For Fhern
This novella takes place in the V.Chronicles universe, and is a prequel of sorts to my work-in-progress Strayborn. I say "of sorts" because the plot is not directly linked to Strayborn, but does feature the past story of one of the characters, and offers a different perspective on Strayborn's world-building.
You can read more about what the V.Chronicles universe is Here, and meet the characters of Strayborn Here.
The Quest For Fhern characters: The do-it-yourself fairy named Clover, her brother Fhern who goes missing, Brokeart the young dragon, and Gandif the wanna-be bounty hunter.
Setting: The story begins in a fairy village, deep within one of the planet's largest forests, a mysterious and enchanting realm of the fairies.
Here's a rough summary/blurb of the story:
Clover the fairy watches as the only family member she has left, brother Fhern, leaves their forest home to head off to war. Time passes as she waits for his return, until one day when two officers appear and give her the sad news: Brother Fhern has been pronounced dead after his dog tags were found in the aftermath of battle, though his body was nowhere to be seen. Clover refuses to accept that her brother is gone—not without solid proof—but it'd be a dangerous journey to go look for him on her own beyond the forest while the war rages on…
Gandif runs away from his life and status of servitude in the Kingdom of Draeth, seeking to live out his goal and childhood dream of becoming a great bounty hunter. When he trespasses into a fairy village and gets caught by Clover, she decides not to turn him over to the authorities but instead hires him for what will be his first job: a missing person's case.
Together they set out, with a rambunctious young dragon in tow, beginning the arduous journey to discover what happened to Fhern…
And now, the Beautiful Books Questionnaire:

1) Overall, how is your mental state, and how is your novel going?
My mental state is hanging in there! Haha, it's actually not so bad, and probably because my NaNo challenge is "unofficial." I am ashamed to say there have been several days I didn't get a chance to write anything (you know how it is) but for the most part, I've been able to get in 1000 words each day I do write. I wish I could reach the recommended 1,600 words per day, but a consistent 1000 words is still a new record for me, so I'm glad. I'll practice on getting my word count per day up after NaNo, so next year I can better reach that goal!
2) What's your first sentence (or paragraph)?
*Gasp!* You want a sneak preview this soon?
Okay, okay, I'll give. It hasn't been revised much, but here it is: 😉
She sat on the edge of the bed in her brother's room, watching him. Before a tall mirror he buckled on layer after layer of thick leather around his torso, legs, and forearms. The leather of war; and over it would go the armor. She watched as he picked up the first piece, its metal gleaming dully, and worked at buckling it around his chest.
She didn't want him to go. The war was raging, few would return from it alive. Her hand yanked at her ponytail. She knew he didn't have a choice. Every fairy man and boy old enough to use bow and arrows was ordered to join the army and fight for their village, their race and forest home, on the warfront. Times were desperate, and every soldier counted…
(Okay, I ended up sharing more than one paragraph, hehehe)
3) Who's your current favorite character in your novel?
Gandif! He's such an encourager, and tries his best to succeed at his dream despite a rough upbringing.
4) What do you love about your novel so far?
Describing the massive forest they have to travel through! I love nature, and writing about the plant life and strange creatures in the story makes me feel like I'm out there in it—even though it's freezing in the real world outside my window, with winter on the way. *eek*
5) Have you made any hilarious typos or other mistakes?
I might have! Thing is, I haven't gone back and checked, so I'm not sure, haha. Just keep writing~ just keep writing~ just keep writing, writing, writing~~~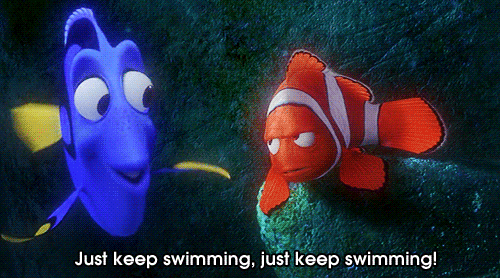 6) What is your favorite to write: beginning, middle, or end — and why?
Beginnings. My crazy writer brain is eager to traverse a new story's world-building, and explore the characters within. Something about the beginning of a story just sucks me right in, as if there is a special magic to it.
7) What are your writing habits? Is there a specific snack you eat? Do you listen to music? What time of day do you write best? Feel free to show us a picture of your writing space!
I move about a lot, like a squirrel moves from tree to tree, so there is no specific writing space, but I do always face a window when I can. The whisper of breezes and trees outside create a good for writing atmosphere. I'd rather be out in it, but it's too cold right now, so I make do with windows.
Sometimes I need instrumental music playing, like David Arkenstone, to get into the mood of scenes. I write best in the evenings and night,, something about the calming, fading light allows me to think better.
8) How private are you about your novel while you're writing? Do you need a cheer squad or do you work alone (like, ahem, Batman)?
I'd love a cheer squad! Cheer me on! I need your boost of enthusiasm and encouragement here!
I'm breaking out of my shell and not being as private about my writing anymore. In fact, I'm eager to share and chat all about it online. But in offline life, there are no other writers close by to connect with daily. So that makes me an offline-Batman, I guess? 😛
9) What keeps you writing even when it's hard?
The story, the characters. But when it's really hard, I just stop and pray about it, do something else for a while, then come back to it later. Sometimes I won't come back to it until the next day. Everybody needs a break.
10) What are your top 3 pieces of writing advice?
Outline, outline ouuut-that-line! I cannot emphasize how much time and energy this has saved me.
Know your characters. The only way to truly write a character is if you know them well. I suggest making profiles for each of them, and do a personality test pretending to be them to better grasp what they are.
Immerse yourself in the story's world. What are the sights, smells, sounds? Technology, transportation? Ask and answer as many questions as you can before starting your book.
The Fairy, The Hunter, And The Quest For Fhern is drawing closer to its first draft completion! What do you think of this novella, based on this post? Would you like to read it once it's polished and ready?
If you're doing NaNoWriMo too, how's your project going?
---
To get news and exclusives from The Quest For Fhern, Strayborn, and other Novels-in-progress, subscribe to the e-Newsletter.
© 2016 E. E. Rawls and RawlsE.wordpress.com
(ads are by WordPress, not me)
---