This is part of the A-to-Z blog challenge for April. My theme is legends and legendary creatures (both real and fiction). I hope you enjoy following along!
Zlatorog and the Hunter
The Mountains of Triglav were guarded by white goats, who often chased away intruders by stone avalanches, and their leader was the great Goldhorn. His golden horns were said to be the key to a treasure hidden in the mountains and guarded by a multi-headed snake.
The only human who was able to climb the highest summits of the mountains was the son of a beautiful widow. He was called the Trenta Hunter. There was a girl he loved, the landlord's daughter, famous for her beauty and virtue, and Trenta Hunter would bring her flowers from the mountains, hoping to woo her. Until one day when a group of Italian merchants transporting Venetian goods stopped by their town.
One of them, a wealthy and young gentleman, tried to gain the beautiful girl's attention with the Venetian jewelry he carried. He put on her golden rings and a pearl necklace, and commanded musicians to play so that they could dance. When Trenta Hunter saw this and approached, he interrupted, and asked his lover for a dance with him next. But her eyes were full of reproach and she mocked him for trying to get in the way.
Hurt, the Hunter went away, wishing there was some way to win her back. He needed jewels, gold. And that's when the Green Hunter appeared: A man known in the valley to cause trouble and ruin the lives of decent young men. He stopped Trenta Hunter and proposed that he should hunt down Goldhorn, take the golden horns and with their power defeat the guardian snake of the mountain treasures. Trenta could win his girl back over then.
That very next morning they set out after the great creature, soon finding him. Trenta's bullet hit Goldhorn, wounding the animal, and Goldhorn stumbled along a narrow ledge, high above an abyss. The Green Hunter pushed forward after it. But Trenta saw, on the dangerous ledge between ice and snow, the most beautiful flowers: Triglav flowers—a special healing flower made by the fallen blood of Goldhorn—and among them edelweiss, which he used to often pick and prepare medicine for his mother's eyes. A memory of his mother suddenly warned him then to stop chasing Goldhorn and to pick up the Triglav flowers instead. But the Green Hunter was pushing on, trying to kill Goldhorn before it could eat any Triglav flowers and heal and get away.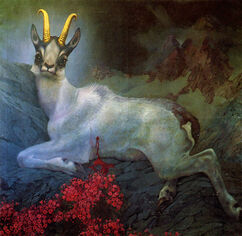 But it was soon too late. Goldhorn ate a flower and was strengthened greatly. Healed, he turned around and raged across the narrow ledge towards the two hunters. His golden horns were shining in the bright sun, more than ever before. Blinded, Trenta Hunter looked away, down into the bottomless precipice below, then staggered and lost the ground beneath his feet as it crumbled. He fell into the abyss…
Meanwhile, the beautiful girl was regretting how she'd treated Trenta, and was waiting for him to return. But it was the waves of the river Soca that brought his body back to the valley. The quest for Goldhorn and love a failure.
(Treasure doesn't win over hearts. It takes away)
It is said that that summer, shepherds found a deserted, rocky landscape instead of blooming pastures in the mountains, because Goldhorn had rooted the plant life up in his wrath. Even today you can see the traces of his horns on the rocky ground.
Perhaps he was angry over all the men who'd wasted their lives trying to take his horns?
The A-Z Challenge is now at an end! It was fun, wasn't it? I hope you enjoyed the journey through time and legends!
Don't forget to click the "Follow" button to be notified of future blog posts!
Read more about me, WIPs, and things not on the blog in my free mailing list.
Connect: Facebook / Tumblr / Google+ / Twitter.
(Info credit from: summitpost.org
Art/gifs belongs to their respective owners, not me. I make no profit through this.)